Operation
IC/SP scald protection valves are installed within the heated system and are purely water temperature sensing. The IC/SP scald protection valve will initiate flow when the thermostatic actuator senses water temperature above the valve's set-point (typically 98°F [36.7°C]) and will remain open as long as the discharge water temperature is within 10˚F of the open set-point (typically above 95°F [35°C]). The thermal actuator is always wetted, making this valve preferable for heat traced lines where scald protection flow is not required unless heat tracing fails.
Typical Applications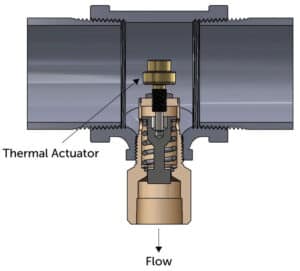 A safety hazard for plant personnel can occur when utilizing safety showers, facewash, or eyewash stations if overheating of the pipes caused by solar radiation or steam/electric tracing results in extremely high temperatures at the point of use. For this reason, a scald protection valve should be implemented to protect facility personnel from excessively hot temperatures being released from the fixture and causing severe damage to the skin.
The IC/SP valve prevents this safety hazard. When installed in safety showers, eyewash stations, and other locations exposed to the same source of overheating as the system, the IC/SP will be heated just as the pipe system. The valve will open to establish flow until the over-temperature water is eliminated and it will then modulate closed.
Design Features
Exclusive self-actuating Thermoloid® wax blend thermal actuator
Brass or stainless-steel body, fittings, and plugs
Compact and low mass – fast response
Corrosion-resistant – long service life
Ram type plug for reliable and tight shutoff
Operates in narrow temperature band
Benefits
Self-operating – no external power source required
Meets ANSI Z358.1 standards
Protects safety showers from over-temperature conditions, keeping personnel safe
Primary protection or fail-safe backup
Two wrench flats for easy installation
Discharges the minimum amount of water required
Ordering