Operation
As the fluid temperature increases to within the operating range of the pump seal temperature control, ECONO/HAT-RA, the thermal actuator modulates the valve open to discharge the over-temperature fluid. If the temperature is above the acceptable range, the thermal relief valve will continue to modulate open allowing additional fluid discharge. As the outlet temperature falls, the thermal safety valve then modulates toward the closed position, reducing flow.
This modulating action maintains a relatively constant fluid temperature even as operating conditions vary. This water discharge can be collected, reused, or repurposed to reduce waste.
Typical Applications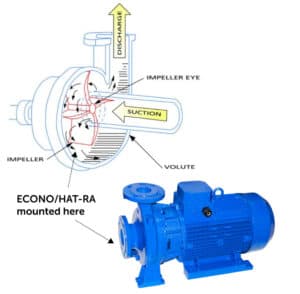 ECONO/HAT-RA pump seal temperature control valve is primarily used for thermal relief on booster pumps to keep them cool during idling. It can also be used to control cooling water outlet temperature or flow of cooling water, glycol, or other cooling media in applications requiring economical removal of heat from equipment or a process.
Since ECONO/HAT-RA valves open on rising temperatures, they can be used in many other thermal relief valve applications. These pump thermal relief valves save space, install in seconds, and eliminate the use of extra, expensive, and time-consuming piping. The unique ram-type plug & seat provide reliable, tight shut off longer than any other design available. As a leading thermal relief valve manufacturer, we are committed to delivering versatile products to suit the demands of our customers' facilities.
Design Features
Exclusive self-actuating Thermoloid® wax blend thermal actuator
Compact, low mass
Corrosion-resistant, long service life
Ram-type plug for tight, reliable shutoff
Narrow temperature band
Benefits
Self-operating – no external power source required
Protects pumps and pump seals from over-temperature damage
Prevents scalding water from being distributed to users
100% mechanical thermal relief for booster pumps and cooling jackets
Unaffected by pressure variations
Ordering