Operation
The thermostatic mixing valve/diverting valve is designed to maintain or proportion flow based on temperature in mixing or diverting applications.
In mixing applications where a controlled temperature outlet is required, the 3-way control valve (M/D) will modulate between the hot and cold inlet feeds (ports "B" and "C") to mix your fluid to the desired specified temperature exiting the "A" port.
In diverting applications where the fluid must be directed from one section of a system to another, the thermal diverting valve (aka thermal bypass valve) will modulate inlet fluid temperature and divert return flow through a cooler/ heat exchanger or bypass it to a reservoir/ bypass loop when fluid temperatures are satisfied. This action assures rapid system warm-up, accurate control of fluid temperature, and reduced back pressure in the return.
Mixing and Diverting Thermal Valves
Mouse over an image of a thermostatic mixing valve/diverting valve to animate.
Thermal Diverting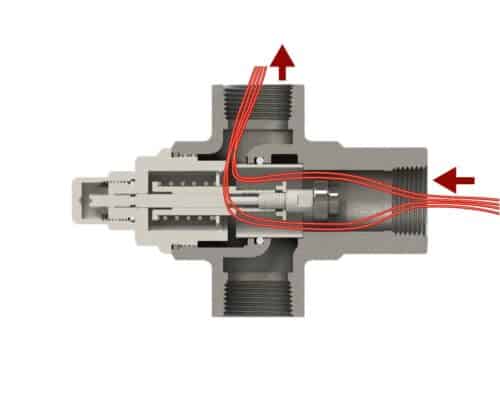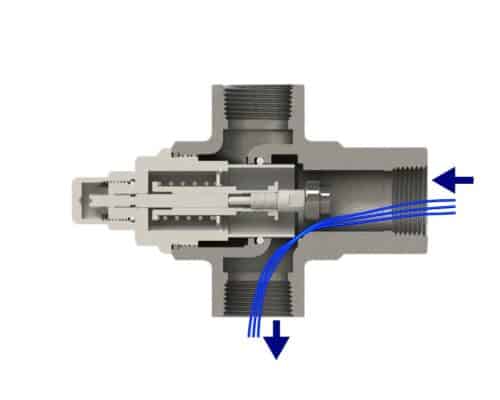 Installed in diverting mode, the valve's thermal actuator will sense the fluid temperature and automatically divert or switch the inlet flow to either of the two outlet ports depending on the valve's specified temperature requirements.
Thermal Bypassing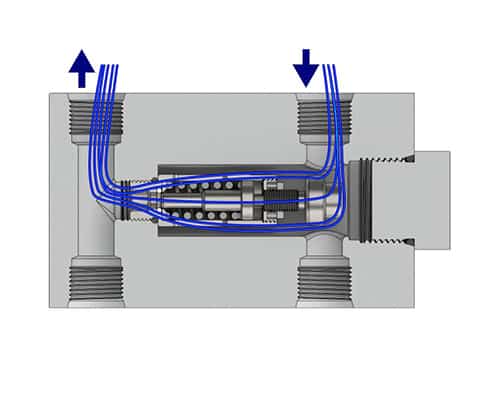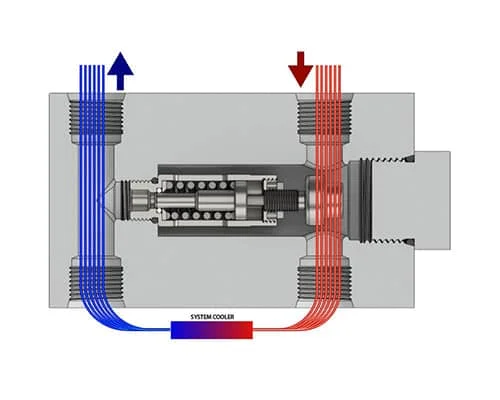 The TBV cartridge can be integrated into a 4-way manifold to monitor inlet flow and divert the fluid based on temperature. Cooler fluid goes through the valve bypass, while hotter fluid goes through the system's cooler.
Thermal Mixing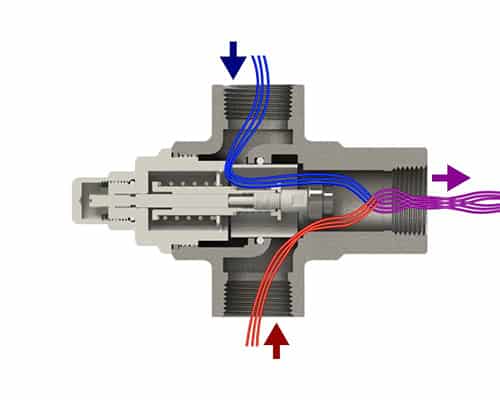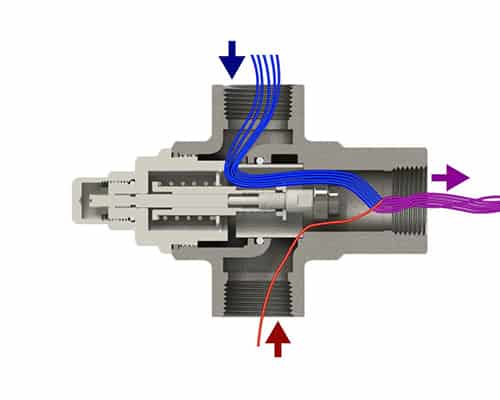 Installed in mixing mode, the mixing valve's thermal actuator will sense the temperature to automatically proportion the flow of hot and cold fluid from two inlet ports to produce the desired outlet port temperature.
Typical Applications
Battery Cooling
Cooling water control for radiator or heat exchanger
Direct cooling with raw water
Direct injection water heating
Electronics system cooling
Engine and compressor cooling system
Hydraulic fluid cooling systems
Hydraulic power units (HPUs)
Hydraulic thermal bypass
Loop-type circulation systems
Lube oil cooling control
Lube oil thermal bypass
Temperature control for baths, wash basins, and sinks
Temperature mixing or diverting
Thermal Management
Water saving applications
Design Features
Exclusive self-actuating Thermoloid® wax blend thermal actuator
Heavy-duty – rugged construction
Compact and low mass for fast response
Operates in narrow temperature band
Standard valve material is bronze or stainless steel
Benefits
Self-operating – no external power source required
Minimal maintenance needed
Wide temperature range
Easy installation
Few moving parts – reduce system wear
Ordering
| | |
| --- | --- |
| | |
| | 1/2" M/D Valve - 316 SS Body, 300 Series SS Internals |
| | 1/2" M/D Valve - all 316 SS construction |
| | |
| | |
| | |
| | 1" M/D Valve - 316 SS Special Order Only |
| | |