Operation
The 1″ thermostatic GURU PC® freeze protection valve is installed at the lowest point within the potable water-bearing systems on a passenger rail car to prevent the water from freezing when the car heat is turned off for switching locomotives or even brief layovers.
This self-contained freeze protection drain valve monitors ambient temperatures and will automatically drain the system if the air temperature falls to the valve's set-point, 35°F (1.7°C), preventing burst piping and thousands of dollars in damage. Once the car heat is restored, the valve will modulate closed, allowing for the tank to be refilled before returning to service. Since the valve is completely mechanical, no electrical or air connections are required for the valve to operate.
To avoid a delay in refilling the water system and getting the passenger car back into service after a valve activation we recommend using our electric heater assembly. The heater attaches to the thermal actuator on the valve and will warm it up quickly once power is restored to the car. This allows the GURU PC® freeze protection valve to close and the potable water system to be refilled quicker after a drain occurrence.
NSF 61 Certified and shock and vibration tested, the GURU PC® is compact, reliable, and in-line serviceable for ease of maintenance.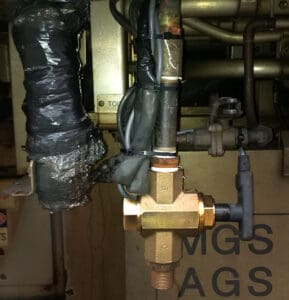 Design Features
Exclusive self-actuating Thermoloid® blend paraffin wax actuator
Low lead brass/bronze
Dual port seals
In-line serviceable
Benefits
Self-operating – no external power source required
Eliminates costly freeze damage in a passenger car
High flow design for rapid draining
Easy installation
Minimal maintenance required
NSF 61/372 certified
Shock & Vibration tested
Heater Assembly Features
2 LED lights for easy visual check of power and heater
Fully encapsulated PC board
Self-limiting heater
No moving parts to wear
Minimal electrical noise
Easy installation/removal with one hand
Heaters available: 120 VAC/74 VDC & 230 VAC