Operation
The reverse-acting TV/US-XR (Tube Fitting/Ultra Surface Sensing) sample cooler control valve opens on rising temperatures to allow cooling fluid in to keep a process from overheating. The valve may be installed so the valve's thermal wax actuator is immersed in the process fluid or mounted non-invasively to the pipeline with a band-o-let fitting. The TV/US-XR operates the same way as the US/S-X valve, but it has tube compression fittings instead of pipe fittings and the Cv is around half of the US/S-XR valve.
The wax actuator automatically and continuously senses the process temperature either directly or through thermal conduction to modulate the valve open/closed and regulate the flow of cooling media.
Typical Applications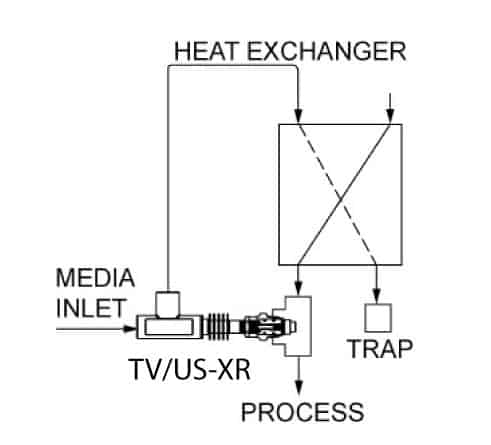 These compact self-contained sample cooler control valves can be used to control cooling media to economically remove heat from equipment or a process. Controlling air flow to a vortex cooling device and controlling cooling media flow to a sample cooler in response to sample temperature are common applications.
The direct-acting model, TV/US-X is designed to monitor and control the flow of heating media to protect facility pipelines from freezing.
Design Features
Exclusive self-actuating Thermoloid® wax blend thermal actuator
All stainless-steel construction
Compact low mass – fast response
Ram-type plug for reliable shut off
Narrow temperature band
Unaffected by pressure variations
Benefits
Self-operating – no external power source required
Prevents process overheating
Discharges minimum amount of media for temperature control
Maintains optimal process temperature
Quick and easy installation
Long service life
Ordering