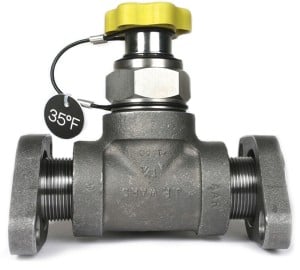 From the Bucks County Courier Times Success Through Diversity

"For 30 years, Warminster's ThermOmegaTech® has been helping to protect locomotives with the smallest pieces of equipment — valves that keep water from freezing and damaging engines.
Today, under new ownership, the valve manufacturer is growing by diversifying its product line to include everything from commercial plumbing products to regulators for barbecue grills.
The company was founded in 1982 by Fred Pirkle — a "modern-day Edison" who held numerous patents, said current CEO Jim Logue."
ThermOmegaTech began by providing self-powered freeze-protection valves to railroad companies. Over the years, Pirkle and Therm-Omega-Tech developed dozens of valve products. But railroads remain its biggest customer, and the company boasts of a 96 percent market penetration in the industry.