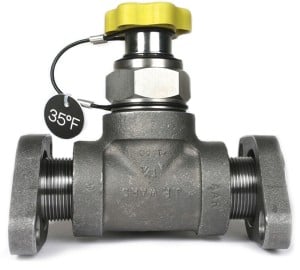 From the Bucks County Courier Times Success Through Diversity

"For 30 years, Warminster's ThermOmegaTech® has been helping to protect locomotives with the smallest pieces of equipment — valves that keep water from freezing and damaging engines.
Today, under new ownership, the valve manufacturer is growing by diversifying its product line to include everything from commercial plumbing products to regulators for barbecue grills.
The company was founded in 1982 by Fred Pirkle — a "modern-day Edison" who held numerous patents, said current CEO Jim Logue."
ThermOmegaTech® began by providing self-powered freeze-protection valves to railroad companies. Over the years, Pirkle and ThermOmegaTech® developed dozens of valve products. But railroads remain its biggest customer, and the company boasts of a 96 percent market penetration in the industry.
But it's growing in other industries, as well, Logue said.
ThermOmegaTech®'s aptly named BBQ Guru division — which began as a side hobby for Pirkle — is now the company's fastest growing business, Logue said. BBQ Guru makes temperature gauges for barbecue grills, and fields an award-winning barbecue team.
"We're a custom valve manufacturer," Logue said. "We do valves for all sorts of uses."
Its newest product is the Circuit Solver®, which saves water and electricity in large buildings like hotels and apartment complexes by allowing the almost instantaneous delivery of hot water. In other words, no more waiting for the shower to heat up. Therm-Omega-Tech already has about 20 projects either underway or in the pipeline that will use the valve.