For over 20 years, a Georgia snack company has struggled with a number of problems when using steam-heated water hoses during their facility cleaning and sanitizing processes. The biggest issue with these systems was that steam would bore out of the inner working components, creating a steam backdraft to release through the spray nozzle.
These random bursts of steam and hot water became a huge safety risk for their associates. Their existing washdown stations also required 36 internal parts to be replaced which added time and a headache to their maintenance processes. To tackle these pain points, they knew it was time to upgrade and improve their washdown processes.
M. G. Newell Corporation, a distributor of ThermOmegaTech's food and beverage channel partner, ACE Sanitary, presented the STVM® Steam and Water Washdown Station to the Safety Manager at the snack company.
The STVM® Washdown Station utilizes a proprietary silent type Venturi mixing valve that combines steam and water for a constant stream at the operator's set temperature. Safety being their number one concern, they were pleased to learn about the STVM® safety feature that is designed to reduce steam flow should the temperature rise above the factory set point and automatically shuts off steam 15°F above that.
In addition to its automatic safety feature, the Safety Manager was very impressed with the ease of cleaning and switching out the cartridge. The STVM® system utilizes an interchangeable cartridge that can be easily replaced or cleaned out, while only using a wrench and a few minutes of time.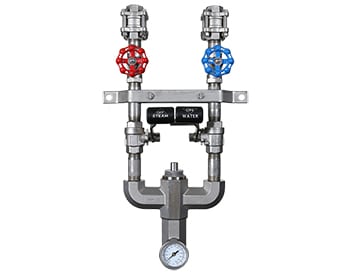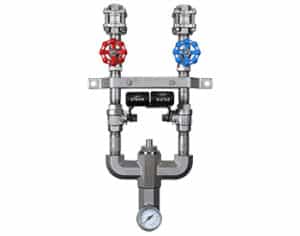 Highly impressed with the overall operation and features of the STVM® Washdown Station, this implementation will no doubt solve their safety problems, as well as minimize downtime due to maintenance.
Read the full case study here.
To learn more about ThermOmegaTech®'s STVM® Steam and Water Washdown Station, click here.