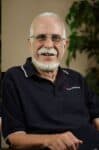 Frederick (Fred) L. Pirkle, owner of ThermOmegaTech, Inc., in Warminster, PA passed away March 9th at his home.
Fred was born on February 17, 1946 in San Antonio, TX to Charles Earl Pirkle and Zutella Bones Pirkle. He lived in San Antonio throughout his childhood and graduated from Harlandale High School in 1964.
In 1970 Fred received a B.S. from the Department of Industrial Technology at Sam Houston State University in Huntsville, TX and in 1972 he received a Masters degree from the same university.