2022 was a fantastic year, thanks to our customers! ThermOmegaTech® has been able to meet its goals despite facing industry-wide supply chain issues. Let's celebrate ThermOmegaTech's Year in Review!
2022 HIGHLIGHTS
Here are some of the significant accomplishments we are celebrating from our Industrial Market:
Andy Reichlin joined our team in March as our Industrial National Sales Manager. Andy has held roles in communications, marketing, and sales, managing national distribution networks for various industrial products, including bearings and pumps, over the last 20 years. His expertise has helped us to grow our distribution network and support our authorized distributors.
We hosted our first inaugural Distributor Advisory Council, which included representation from six authorized distributors. This was incredibly beneficial as they were able to tour our facility, and we could share ideas and resources for the upcoming year.
We also added two new U.S. distributors, Industrial and Construction Enterprises and Schimberg Co., and two new International distributors, Glotex and Tubes International.
NEW LITERATURE & VIDEOS
We launched an eBook with Food Processing Magazine in November '22 on how sanitizing food processing facilities with steam-heated water provides a simple and efficient way to maintain a sterile work environment. Download it here.
We created a whitepaper on the Steps to Developing an Effective Sanitization Procedure in plants and facilities, which you can download here.
We also released this application sheet on Thermostatic Control Valves for Cooling Balancing Applications.
We were excited to release this video on HCX and HCS Washdown Stations for Breweries, Wineries & Other Facilities Without Steam. To ensure a high-powered wash that guarantees cleanliness in production facilities, ThermOmegaTech® offers the most economical, safe, and efficient washdown systems and equipment.
TRADESHOWS WE ATTENDED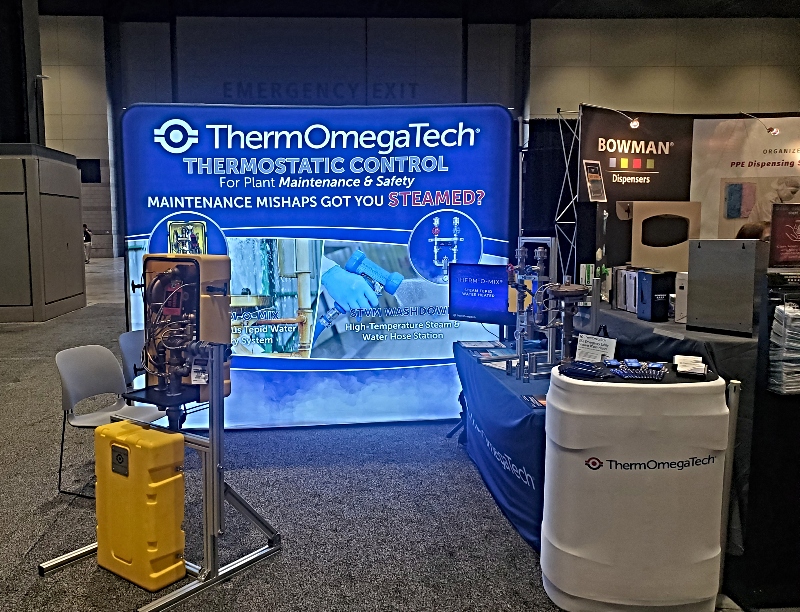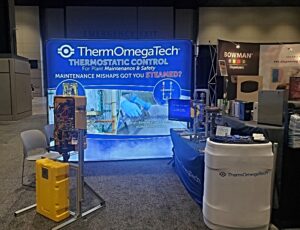 We had a great time networking and meeting associates at the 2022 ASSP Expo.
Here are some of the great accomplishments that we'd like to share with you from our Rail Division:
Increased sales steadily as we moved out of the pandemic and remained the leader in locomotive freeze protection for all the Class I's in North America.
Significant growth in the passenger car freeze protection market thanks to a big focus on the GURU PC® with its electric heater assembly to ensure prospects are aware of the need for freeze protection and options available for passenger cars.
Dana Logue, Engineering Project Manager, and Glenn Quinty, Senior Engineering Product Specialist, participated in RT&S Railway Age Virtual Conference: Winter Preparedness. Watch it on demand here!
Here are some of the outstanding accomplishments that we'd like to share with you from our Commercial Plumbing Division, CircuitSolver®:
We launched the new CircuitSolver Union Cold Water balancing valve (CSU-CW). This valve automatically and continuously balances a cold water recirculation system to discourage Legionella bacteria colonization and reduce stagnation.
Project Manager Eric McTee of ME Engineers details his experience specifying CircuitSolver® over the last few years in this testimonial.
We released two new videos, a How it Works video on CircuitSolver® and one on the new Cold Water CircuitSolver® valve.
Read more about CircuitSolver's Year in Review on the CircuitSolver® website.
Here are some of the great accomplishments that we'd like to share with you from our Aerospace and Defense Division:
We hired Josh White as our A&D Business Development Manager and are excited about his work in the Aerospace and Defense Division. Josh is a former Air Force One pilot with over 20 years of operational military aviation experience. His expertise and skills in the aerospace industry will help us to develop new processes and streamline our strategies to serve our customers better.
We have brought on a new A&D rep J.D. Technologies Global, who works with high-quality, complementary manufacturers of products and services that serve the aerospace, military & defense, medical, and industrial markets. We are very excited about this partnership and proud of the work we've done with them in 2022, and looking forward to 2023.
Read more about our A&D Division's Year in Review on the Aerospace & Defense website.
Looking Forward
Our Electronics Affiliate, TJM Electronics, has merged with ThermOmegaTech® and will now operate under the ThermOmegaTech® brand as our Electronics Division! Read about this breaking news here!
Thank you for being a part of our journey, and have a happy New Year! We look forward to working with you in 2023!