Products expand beyond the company's leading Washdown Station STVM® to meet the needs of more customers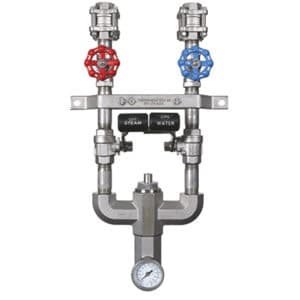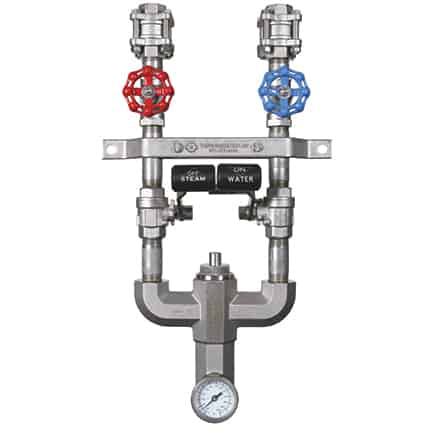 Warminster PA, March 8, 2016 – ThermOmegaTech®, a world leader in the design and manufacture of self-actuating temperature control technology, is expanding its washdown station offering to include a Hot and Cold Water Mixing (HCX) Station, featuring an optional thermostatic safety shut-off, Single Channel (HCS) Station, premium washdown hose assemblies and a stainless steel enclosure.
The new products extend beyond ThermOmegaTech's flagship washdown station, STVM®, which delivers a high temperature washdown using a proprietary mixing valve that combines steam and water for a constant stream of water at a set temperature, broadening the company's ability to accommodate new markets. Designed for use in a broad range of industries including food, beverage, dairy, pharmaceutical and chemical processing facilities, as well as WEP and wholesale companies, the new products combine simplicity and cost effectiveness with the reliability and safety inherent in all ThermOmegaTech washdown stations.
"Expanding our washdown station product line is an exciting endeavor for ThermOmegaTech," said Jim Logue Jr., CEO at ThermOmegaTech. "Since our founding, we've embraced technology's ability to elevate safety and operations for our customers, and our new products demonstrate this commitment through differentiating features like the thermostatic safety shut-off."
The HCX Station utilizes individual globe valves to mix hot and cold water to the desired proportion and includes an optional thermostatic safety shut-off feature based on the company's thermoloid technology. The HCS Station provides convenient delivery of a single stream of hot water for washdown applications, including a quarter turn ball valve for top online pokies new zealand simple and effective control. Both units feature an integrated and easy to read temperature gauge for confirmation of outlet water temperature, as well as a mounting bracket and hose rack.
To complement the new hot and cold water washdown stations, ThermOmegaTech additionally released new washdown hose assemblies. Available in both black general purpose and premium white creamery versions, they are ideal for hot water washdown applications in food, beverage, dairy and bakery facilities. The hoses feature an internal EPDM tube and a heat, ozone and abrasion resistant black or white EPDM cover. They are rated at 300 PSIG and 212OF. A stainless steel enclosure will also be available in the near future.
For more information on the new washdown station products and features, please contact Mike Marsceill at MikeM@ThermOmegaTech.com, or 877-379-8258 x267.
About ThermOmegaTech
Headquartered in Warminster, Pennsylvania, USA, ThermOmegaTech is dedicated to meeting the temperature control needs of a wide range of industries, with the highest-quality self-actuated valves and custom solutions. Using a high-quality manufacturing process, a problem-solving approach, and innovative engineering, ThermOmegaTech helps customers avoid the damaging or unwanted effects of water flow at the incorrect temperature, in order to protect their investments and ensure safety and performance in the most reliable, effective way. By following the principles of lean manufacturing, ThermOmegaTech's operators deliver a continuous flow of value to customers, employees, and stakeholders. For additional information on ThermOmegaTech's self-actuated valve technology, visit www.thermomegatech.com.