The GURU Rebuild Program – keeping your freeze protection functioning at peak performance all winter long.
How old are your GURUs? A simple question, but one that many maintenance managers may not know the answer to.
The GURU Plug relies on a paraffin wax actuator to "pop" and drain water tanks before freeze damage can occur in cold weather. As the GURU ages, there is a tendency for it to lose a small amount of stroke. While this would never compromise your freeze protection, it can eventually lead to nuisance dumping above the valve's set-point.
To avoid this, we recommend replacing your GURU Plugs every 18-24 months and developed the GURU Rebuild Program to provide an economical and green way to do so.
The GURU Rebuild Program restores used GURU plugs to full functionality. After being sent in to our factory, each plug is disassembled, cleaned, checked, and its interior components are replaced. Each refurbished valve goes through our standard testing procedure to confirm correct operation before being returned to the customer.
Rebuild Program Benefits
Undeniably the most beneficial part of the program, GURU Plugs are processed and returned in like-new condition for about half the cost of a new valve. This has proven to be a significant cost-savings option for locomotive operators who may have hundreds of GURUs installed at once.
An additional program benefit is what it generates less of – waste. Instead of simply trashing used GURUs that are nuisance dumping and purchasing a new one, the rebuild program recycles the majority of the valve's components. This reduces overall environmental impact, so you can feel good knowing that we at ThermOmegaTech® are protecting both your investments and the planet.
How To Determine Your GURU Plug's Age
Not sure how old your GURU Plug is? Our valves have a yearly-rotated color cap to easily identify the year it was sold. In addition, each cap is laser marked on the top with it's month and year of manufacture. As per the below color cap chart, if your GURU isn't red or white, it's time to send them back!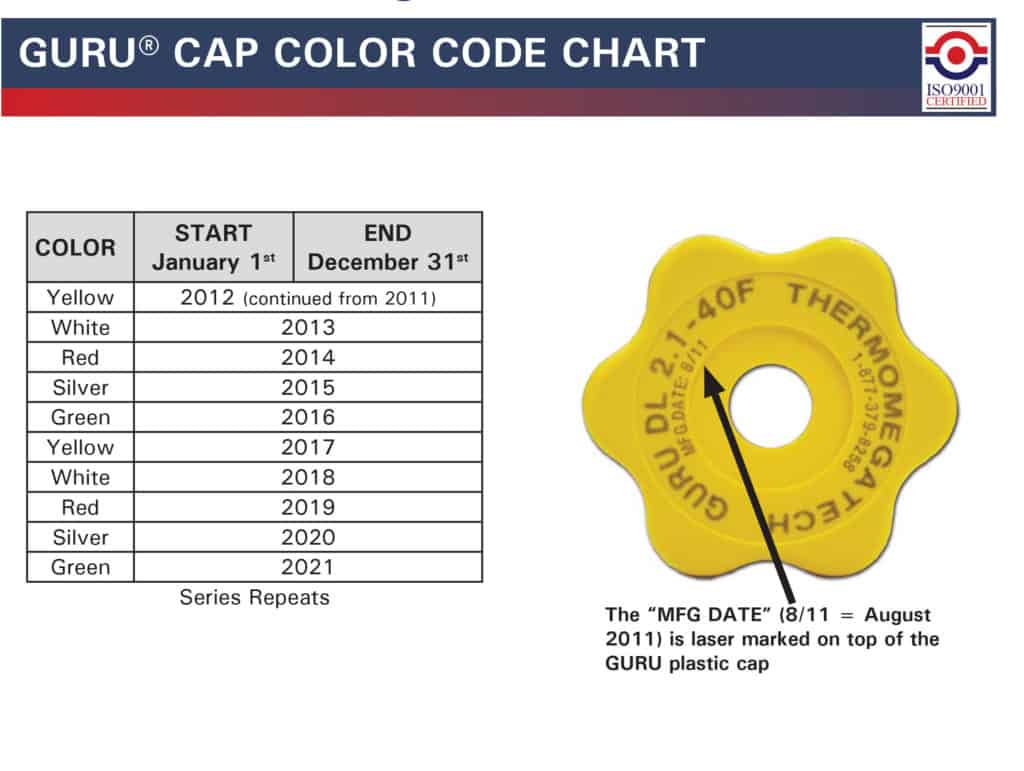 For more information on the GURU Rebuild Program, we invite you to visit our website at: www.thermomegatech.com/guru-rebuild-program.
As always, thank you for your continued support.