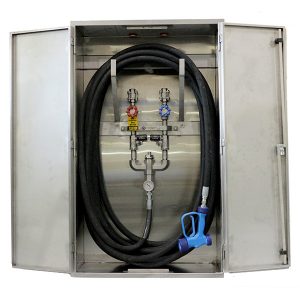 Warminster PA, June 29, 2017 – Thanks to customer and channel input, ThermOmegaTech® continues to identify new opportunities in the washdown market with both steam and hot water applications. To support the growing washdown line, ThermOmegaTech® is excited to announce the new Model MRE Washdown Station Enclosure.
This new enclosure is designed to provide a secure, organized location to house ThermOmegaTech® Washdown Stations, Hoses, and Guns.  The Model MRE is intended for recessed wall type installations where it can be flush mounted, with doors that open a full 180° for easy access and use.  The stainless-steel construction makes the enclosure corrosion resistant, and two separate hose racks are included to accommodate convenient storage for any size hose up to 100 feet in length. Additionally, the Model MRE enclosure comes with steam inlet pipe insulation and is designed with a lockable door latch for added safety and security.
For more information on the new washdown station products and features, please contact Mike Marsceill at MikeM@ThermOmegaTech.com, or 877-379-8258 x267.
About ThermOmegaTech
Headquartered in Warminster, Pennsylvania, USA, ThermOmegaTech is dedicated to meeting the temperature control needs of a wide range of industries, with the highest-quality self-actuated valves and custom solutions. Using a high-quality manufacturing process, a problem-solving approach, and innovative engineering, ThermOmegaTech helps customers avoid the damaging or unwanted effects of water flow at the incorrect temperature, in order to protect their investments and ensure safety and performance in the most reliable, effective way. By following the principles of lean manufacturing, ThermOmegaTech's operators deliver a continuous flow of value to customers, employees, and stakeholders. For additional information on ThermOmegaTech's self-actuated valve technology, visit www.thermomegatech.com.