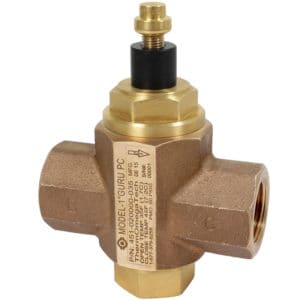 September 24, 2014 – Warminster, PA — Making its world debut at InnoTrans 2014, ThermOmegaTech, the market leader in North American locomotive freeze protection announces GURU PC, a thermostatic drain valve for passenger car water-bearing systems.
ThermOmegaTech's line of GURU Valves are self-operating, thermostatic drain valves that protect locomotives and passenger cars from freeze damage.
The GURU® PC valve is self-contained and drains water bearing systems automatically before freeze damage can occur by monitoring ambient temperatures. Completely mechanical, with no outside power required, its high flow design allows for rapid draining, eliminating costly freeze damage. With an available plug-in heater option, it allows for quick refilling of the water system to get the passenger car back into service as soon as possible.
The GURU® DL2.1 and Magnum locomotive valves are water-sensing, self-operating thermostatic drain valves that respond to engine coolant temperature. When the locomotive is shut down and cooling water reaches the temperature set point of the valve, the plug will snap open draining the locomotive cooling system before any freeze damage occurs.
About ThermOmegaTech
Headquartered in Warminster, Pennsylvania, ThermOmegaTech is dedicated to meet every fluid temperature control need, across a number of industries, with the highest-quality self-actuated valves and custom solutions. Using a high-quality manufacturing process, a problem-solving approach,and innovative engineering ThermOmegaTech help customers avoid the damaging or unwanted effects of fluid flow at the incorrect temperature to protect their investments and ensure safety and performance in the most reliable, effective way.