Operation
The US/A (Ultra Steam Control – Ambient Sensing) valve, will open or close over a 10°F (5.5°C) differential (i.e. 35-45°F, 90-100°F, etc.) to control the flow of steam, gas, or fluid through the valve to protect piping and instrumentation from freeze damage.
These self-actuating valves are normally closed and will begin to open to inject steam or another fluid when the ambient temperature drops below the valves' set-point. The valves will close again once the air temperature rises back above the valves' set-point, saving thousands of dollars in wasted operating costs (Example, a 35°F valve would open at 35°F to turn on the flow of steam and then close at 45°F).
Typical Applications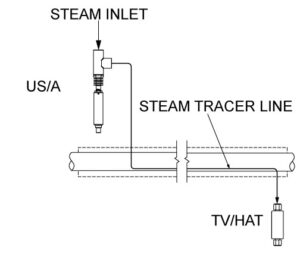 There are many uses for these compact, self-contained, automatic flow control valves. The most common applications include automation of winterization steam tracing lines, control of pneumatically operated pumps for injection of anti-freeze liquids, and water line freeze protection.
These steam tracing control valves are also ideal for controlling steam heated drum heater enclosures and plate or panel coil tank heaters.
In cooling applications, the reverse-acting US/AR can be used to automate cooling sprinklers, cooling baths, and more.
Design Features
Exclusive self-actuating Thermoloid® blend wax thermal actuator
Stainless-steel body, fittings, and plugs
Compact, low mass – fast response
Corrosion-resistant – long service life
Ram-type plug for tight reliable shutoff
Operating temperatures unaffected by pressure
Wide choice of set-points available
Benefits
Self-operating – No external power source required
Reduces winterization maintenance and labor procedures and costs
Efficiently automates steam tracing
Eliminates wasted steam
Quick and easy installation
Ordering