Operation
The reverse-acting US/S-XR (Ultra Surface Sensing) sample cooler temperature control valve may be installed with the valve's thermal actuator immersed in the process line or mounted non-invasively to the piping with the optional band-o-let fitting. This allows the thermal wax actuator to be in contact with the process directly or through thermal conduction to regulate the flow of the cooling media.
If the fluid is above the desired set-point temperature, the valve will open allowing cooling fluid to flow until the process flow temperature drops to 10°F below the set-point. Once this occurs the valve will modulate closed again providing an optimal environment for the process.
Typical Applications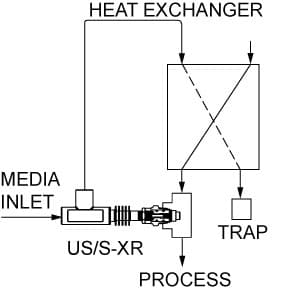 These compact self-contained sample cooler temperature control valves can be used to control cooling media to economically remove heat from equipment or a process. In general, they can be used whenever accurate, low-cost control is required, but a common application is controlling cooling media flow to a sample cooler in response to sample temperature.
The US/S-X direct-acting valve can also be used to regulate the flow of heating media to prevent a process from overheating.
Design Features
Exclusive self-actuating Thermoloid® wax blend thermal actuator
Compact low mass – fast response
Ram-type plug for reliable shut off
All stainless-steel construction
Narrow temperature band
Unaffected by pressure variations
Benefits
Self-operating – no external power source required
Maintains optimal process temperature
Prevents process overheating
Discharges minimal amount of media for temperature control
Long service life
Quick and easy installation
Ordering