GURU Rebuild Program FAQs
ThermOmegaTech recommends replacing your GURU Plugs every 18-24 months to prevent nuisance dumping as the valve ages. The GURU Plug Rebuild Program is a great way to get your used valves refurbished for about half the price of a new valve.
Below are some commonly asked questions about the Rebuild Program:
Q1: What is the purpose of the colored caps?
A1: The colored caps serve as a visual indicator of what year the valve was built. There are five colors that rotate, each associated with a year. For example, 2018's color is white. In 2019, the maintenance crew can easily determine that the white capped GURU Plugs will not need to be rebuilt for another year. The manufacture date is also laser marked on the top of each cap as a second reference (MM/YY).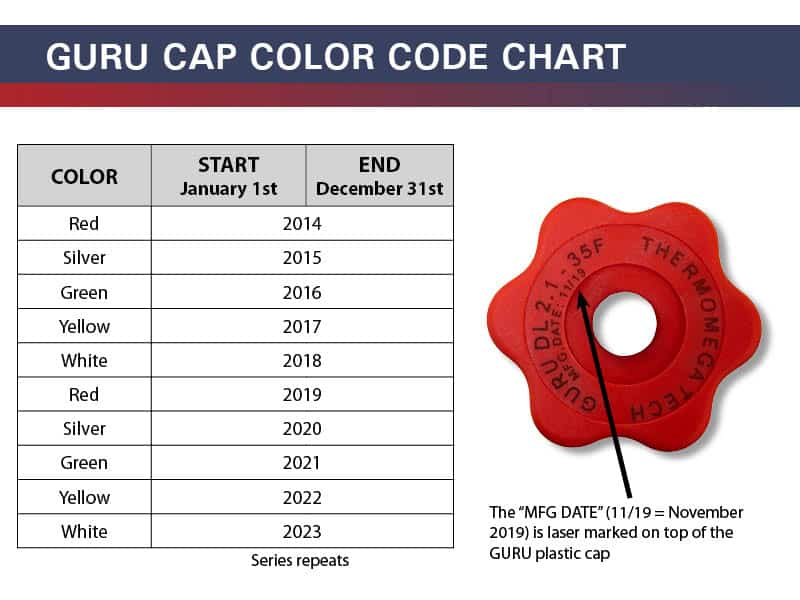 Q2: How does the rebuild program work?
A2: All you need to do is send ThermOmegaTech a rebuild purchase order and your used GURU Plugs (be sure to include a copy of the purchase order with your shipment). We disassemble the valve, scrap and replace the internal components, and clean up the cartridge body and hex nut. The reassembled valve is then cartridge tested (heat soaked and air cooled), leak tested, and pop tested before being returned to the customer. We also offer a UTEX program for orders of 50 pieces or less, so you can get your GURU plugs back even quicker.
Q3: Where do we send our used GURU Plugs?
A3: The same place they were originally built, tested, and distributed – our headquarters! Please ship the valves to this address:
ThermOmegaTech, Inc.
Attn: Rebuild Program
353 Ivyland Road
Warminster, PA 18974
To prevent damage to the cartridges and hex nuts, be sure to ship them with plenty of packaging material to keep them from bouncing around while in transit, and cover each hex nut with the blue thread protectors that originally came with the valve. If you do not have the thread protectors, add extra packing material to avoid damage to the hex nuts.
Q4: Do I need to return the hex nut, or just the cartridge?
A4: We recommend to send both the cartridge and the hex nut back to be rebuilt to ensure that the hex nut seat area is cleaned, as dirt and debris can build up and compromise the plug's freeze protection.
For more information on the GURU Plug Rebuild Program and how it can help protect your locomotives all winter long, visit our website at: www.thermomegatech.com/guru-rebuild-program.
If you have any questions about these GURU Rebuild Program FAQs or the refurbished GURUs, please do not hesitate to give us a call. As always, thank you for your business and I look forward to working with you.