Federal regulations require that any facility where workers may be exposed to hazardous or corrosive materials must have immediate access to a tepid water emergency drench or flushing system to protect the eyes and body in the event of accidental exposure.
As a guide, the ANSI Z358.1-2014 standard establishes a universal minimum performance and use requirements for all Eyewash and Drench Shower equipment.
SIMPLIFY TEPID WATER COMPLIANCE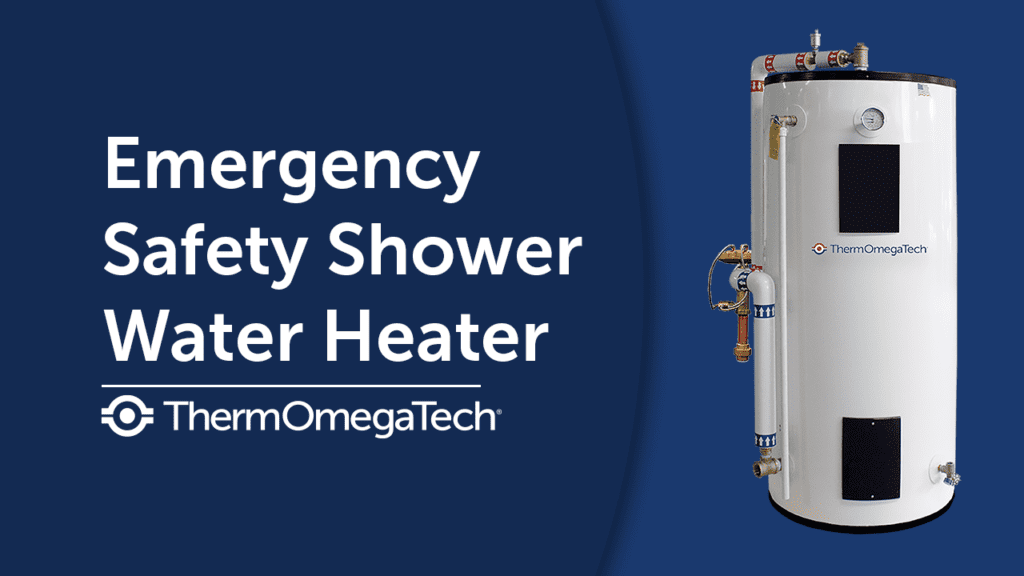 ThermOmegaTech®'s Emergency Safety Shower (ESS) Water Heater is a factory-packaged tepid water delivery system specifically designed to comply with OSHA and ANSI standards.
This heavy-duty water heater is constructed of a carbon steel tank with an internal 1/2″ thick Hydrastone cement lining. It is fully insulated with 3″ thick polyurethane foam to minimize standby heat loss.
HOW IT WORKS
Factory-packaged with ThermOmegaTech's Therm-O-Mix®/WWM mixing valve, the ESS combines cold and tank-heated hot water to deliver a constant 85°F tepid water outlet temperature at the point of use.
When an emergency safety shower/drench system is activated: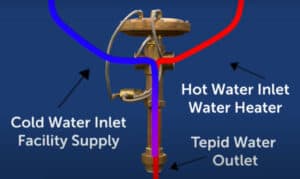 Hot water from the water heater enters one port of the WWM mixing valve, as cold water from the facility supply enters the other. The water is mixed proportionately to achieve an OSHA-compliant 85°F supply to the station.
The ESS system will deliver tepid water for the recommended 15-20 minutes at 23 GPM for safety showers and 3 GPM for a face/eyewash station, even if the power goes out.
Designed to ensure employee safety, the unit incorporates a thermostatic over-temp shutoff that will prohibit overheated water from being released through the fixture and potentially scalding the user.