In food processing, dairy, beverage, chemical, petrochemical, and pharmaceutical facilities maintaining a clean environment is critical to product quality and operational efficiency. Washdown stations are used to quickly and efficiently clean and sanitize equipment in place between production runs or shift changes.
ThermOmegaTech® offers three different washdown station options:
STVM® Steam & Water Washdown Station
The STVM® Washdown Station provides an effective high temperature wash in an easy-to-maintain package. Utilizing our patented Silent Venturi Mixing Valve (STVM®) technology, this washdown station mixes together steam and water to produce a high-powered wash at a user-defined temperature.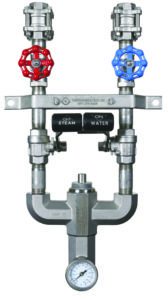 Designed to be self-scouring, the mixing valve prevents mineral buildup in tight spaces, decreasing maintenance frequency. To further reduce time spent on required regular maintenance, the unit is in-line serviceable. The user simply switches out the STVM® cartridge with another on hand and the unit is back up and running in minutes.
Safety is our priority, so every STVM® Washdown Station has two built-in safety features – interlocking ball valves to prevent steam-only operation, and an automatic shut-off when output is 15°F over the unit's temperature set-point (either 150°F or 185°F) or when cold water flow is interrupted.
HCX Water & Water Washdown Station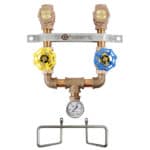 For facilities without an available steam supply, the HCX Washdown Station is an ideal solution. This unit utilizes individual globe valves to mix hot and cold water to a user-defined temperature, clearly displayed on the integrated temperature display gauge.
To prevent accidental scalding, the unit is offered with our unique SmartFlow feature. This in-line, over-temperature safety valve automatically stops flow should the unit's output exceed a factory specified set-point.
HCS Single-Channel Washdown Station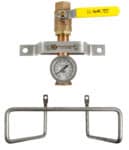 The HCS Washdown Station simplifies washdown applications even further, providing a high-powered single stream of either cold water or pre-heated hot water at the turn of a ball valve. The unit employs an integrated temperature gauge to confirm output temperature.